For some of us, winter is not all about snow plows, fire places and extra layers. What are friends in, say, Hawaii or Texas wearing this winter? Well ladies, this month's shopper is all about our friends who are lucky enough not to have to dig their cars out, and worry about frost bite.
As fall's chill turns into a frosty bitch, a winter spent on the beach sipping mai tais and digging bare toes in the sand sounds better and better, right? WRONG! For those living in fairer climates paradise is just that except when it comes to capitalizing on great new winter styles. But that doesn't mean the grass skirt and muumuus have to stay on year round. Turning the wardrobe towards a more Alpine direction is easy and almost a requirement – just to remember that yes, somewhere out there people are theoretically enjoying hot chocolate and cozy nights by the fire. So if you're heart's in Hawaii, order up another mai tai and shop away. Winter is what you make it.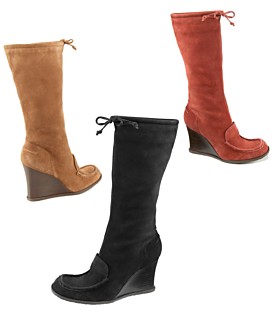 First of all…get some BOOTS!
Nothing says winter more than shoes all the way to your knees. And the best part of wearing boots in the tropics is they don't have to hide under pants or get destroyed in an unfortunate snowdrift incident. These suede boots look great with skirts or jeans and the stacked wedge heel is perfect for navigating sandy beaches without twisting an ankle.
————————————————
BCBGirls "Scarlet" Wedge Mid-Calf Boot $149
Buy here
————————————————-
Now, ski bunny. Maybe some fur?
Definitely good, in moderation. Not real fur for all you supporters of PETA. Fabulously faux. (The humidity does a number on real fur anyway.) These fur boleros might actually serve no purpose other than turning an otherwise summery outfit into a passably winter ensemble. This one by Sashimi boasts just enough coverage for a silky sleeveless top to hit the air-conditioned nightclub in style.
————————————————
Sashimi Faux Fur Bolero By Sashimi; imported. $62.00 #159360
Buy here
——————————————-
Most important about winterizing the beach lover's wardrobe is never let go of the good stuff.
Summer's infatuation with the feminine means a closet full of silky camis that are perfect for keeping blazers and other tops from becoming too stiflingly hot. And since winter is somehow an excuse to bump it up a notch, allowing everyone else to wear over the top Edwardian blouses, feel free to wear the frilliest tanks you own. The empire waist, flared bottom and delicate sleeves on this make it the perfect night out top and in black, is just wintry enough.
———————————–
Embellished Kimono Top $98.00
Buy here
—————————————————-
Another key to pretending winter is just around the corner is thicker fabrics built to protect.
What could be tougher than wool? (And also itchy, uncomfortable and sweltering in the not so rare 80 degree winter day.) That's why Triple Five Soul scores in these casually cool gauchos. Paired with all your other "slightly" winter wear, these culottes actually let you stay cool while looking even better.
——————————————-
Triple 5 Soul Grommet Sash Culottes $88.00
Buy here
———————————————
Obviously the blazer is this season's it girl and as such, happens to make the perfect winter accessory that carries over quite well to warmer climates.
Doubling as winter "coat" and classy cover up, Bebe's velvet blazer looks toasty and makes every outfit HOT HOT. Form-fitting and with just enough ruffles to place it in party wear, this blazer covers all the bases.
——————————————–
Bebe Sweet Ruffle Blazer $169.00
Buy here
——————————————-
On the off chance the weather does take a turn for the worse, heed the girl scout mantra and BE PREPARED!
Obviously it will never snow, so jump on the opportunity to sport these ultra cute rain boots and don't forget your umbrella. Be assured that every puddle you gleefully stomp through will bring a sneer of jealously to the faces of the less glamorously clad whose flip flops have flipped half an ocean on their backsides.
————————————————-
Gabriella Rocha $ 65.95 SKU #7193268
Buy here
————————————————-
And if you really do live in Hawaii, going mainland this winter means only one thing – Las Vegas!
But before you go for broke, throw down some dough for Diesel's sexy "Voyer" jacket, complete with a winning hand on the back. Getting complimented on how hot you look may be the best time you have all weekend.
————————————————
DIESEL(r) ´Voyer´ Jacket
Buy here
————————————————–
Most of all, regarding winter fashion, if you love it – wear it. And if you don't feel like bundling up to face the cold 75-degree weather, keep the slippers and tank top handy and don't fret it. It's winter on the North Shore and surf's up. With the money saved on not buying this season's latest pea coat you can buy three swimsuits that keep you covered just enough year round.